Life is like a box of chocolates--you never know what you're going to get.
Remember that line from the movie,
Forrest Gump
? That statement applies to real life characters, such as my new granddaughter, Kylie, as well as the characters created in stories.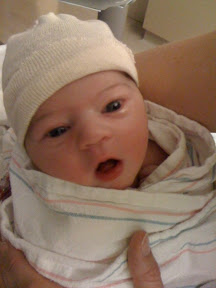 Kylie - One hour old
Many advise writers to shape their characters, you know, kind of like you shape human beings. Ha! Has that ever totally worked out for anyone? I've witnessed the birth of four babies in my lifetime, each under their own unique set of circumstances, however, each brought their own personality to the party on day one. Little humans aren't blank slates and neither are characters in novels. The most important thing is understanding the character you are dealing with. You can try to shape them and you may influence them for better or worse. Whether you help them to success or damage them, they hold that secret element of surprise that is uniquely them. In the end, all you can do is set the stage, give them the important directions, and turn them loose. People and characters who know that their destiny is in their own hands, fare better in life and on the page than those who have not learned this truth.
And may I add--isn't she cute? She came into the world wide-eyed and without a whimper. Who knows what kind of stories I'll have to tell about her.
- Posted by Scheherazade